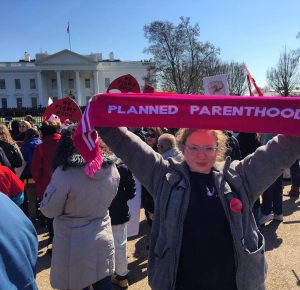 Anne Sageng graduated in Spring 2012 with a whopping three majors: American Studies, Cultural Anthropology, and Gender and Women's Studies. While at UMBC, Anne was also active in WILL, coordinating clinic defense training for students. After graduation Anne continued working at Trader Joe's and volunteering as a clinic escort and roving coordinator for the Washington Area Clinic Defense Task Force. "If you ever have a job here…" she remembers saying as she coordinated escorts at Planned Parenthood, and the rest is history.
The election of Donald Trump in November 2016 has sent ripples through politics and culture, and a wave of volunteers washed up on the shores of Planned Parenthood. Anne was brought on as a part time volunteer coordinator, and the needs continued to skyrocket: volunteer applications quadrupled–they received over 100 applications in the 24 hours after election day–and her work was even more needed. She has since been brought on as a full-time employee, and she is grateful to get to use many of the things she learned in GWST every day.
Anne remembers her biggest lessons coming in GWST 200: Studies in Feminist Activism. She expected to be inspired by activism and to learn tools to do it better, but what she learned from her placement at a women's center in the city was what not to do. "I learned the importance of asking people what they need, rather than assuming I knew what was best. That wasn't happening at this site, and I saw the effects of that. My background in GWST 100, 200, and my work with WILL taught me this wasn't right." And that training continues to help her in her work at Planned Parenthood. "I bring that insight here–I try to meet people where they are. I do a lot more listening than talking."
Anne hopes to continue at Planned Parenthood doing the work of reproductive justice for a long time. She is particularly interested in getting more involved with education. Does she miss UMBC? Sure, she says. "Whenever I go onto campus I get this feeling…I just love learning, I love this school. UMBC teaches people how to learn." And she's still doing it.