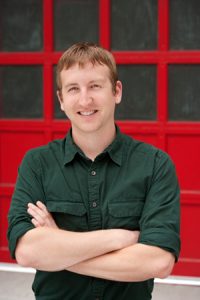 Garrett Wright completed a BA in Theater and a Certificate in Gender & Women's Studies in 2001, before GWST was a department or offered a major. We caught up with him recently as he was leaving his position at Legal Aid Society of DC and heading to Portland, OR with his partner Jane Moisan and their son Judah in order to work with Legal Aid Services of Oregon.
After graduating from UMBC, Garrett participated in the AFL-CIO's Union Summer program with SEIU Local 100 in Louisiana and Texas, an internship he credits Chair Carole McCann with helping him land. This organizing work inspired Garrett to follow that road, and he spent the two years working with the Student Peace Action Network in Silver Spring.
His next stop was law school, at UC Berkeley's School of Law. He has since dedicated his legal career to working on behalf fair and affordable housing for tenants in New York City, Washington, DC, and now Portland. His new position will allow him to work closely with individual tenants and grassroots organizers to help low income people access and keep safe and affordable housing, a particularly challenging task in a rapidly gentrifying city in a state that currently has a prohibition on rent control ordinances.
Garrett has done some impressive stuff since graduating, but he still remembers and credits GWST as a place where he learned to think with a feminist lens. He enrolled in Dr. McCann's Introduction to Women's Studies course his freshman year. "I had been someone who had been fairly politically conscious in high school growing up outside DC," he says. "While I'd had some experience during high school learning and participating in racial justice struggles, I didn't know as much about feminist struggles. UMBC was the first structured learning environment I where I had the opportunity to learn more about feminist history, theory, and practice."
Subsequent courses in community organizing and research methods helped Garrett think critically about the work he thought he wanted to do. "These classes made me look at critical ways to deconstruct the different professions I'd been interested in—especially the legal profession. It is one of the most conservative and reactionary professions, and is very resistant to change," he says. "That makes it all the more important to learn about critical theory and how to use that to not take anything for granted in the work that I do."
His Certificate in GWST prepared Garrett to do the work he does using explicitly feminist and antiracist lenses. He says that his work in affordable housing has shown him that while the crisis crosses many lines, it is often women of color who are the most vulnerable to rising rents and eviction. "Many members of community-based organizations that I have represented have been strong women of color at the forefront of leading the battles for housing justice on behalf of themselves and their neighbors," Garrett says. "Eviction issues are not purely abstract class-level problems. Class matters a lot, and most of my clients are poor or working class— however, gentrification and housing discrimination disproportionately impact poor and working class women, People of Color, and immigrants. We need to challenge the racism at play in housing decisions—in zoning and land use issues; in the implicit and explicit biases of landlords, their attorneys, and judges; the historical effects of the redlining that prevented many People of Color from being able to obtain homeownership while government agencies and banks simultaneously engaged in greenlining of federally subsidized mortgages for white homeowners; and the predatory lending practices of today that are robbing wealth from communities of color. We also need to challenge the sexism that is really pervasive at the interpersonal level in many landlord-tenant relationships, which includes sexual harassment and homophobic conduct by many property owners and managers.
GWST is proud to count Garrett among our alums, and we hope he knows we are still here, teaching students to see through multiple lenses and to understand the structures of patriarchy and white supremacy that shape the lives of all of us.