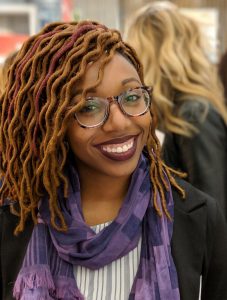 When Lexx Mills started college she had big dreams of working in international development with a focus on the needs of women. GWST classes made sense, and they taught her much more than she was expecting. "Classes talked about so much going on in America, too–the intersections of race and other identities." Although GWST classes cover national and transnational material, Mills found her attention shifting to her own communities and how to improve conditions for people living at the intersections of inequalities rooted in race and class.
Mills graduated with her BA in GWST in 2013, and her career has taken her around the world and brought her back to Baltimore. She first completed a Fulbright teaching English in Malaysia. That experience drove her to seek out a teaching position, and she joined the DC Teaching Fellows program. She taught first grade in SE DC before moving back to Baltimore, where she taught fourth grade. "I enjoyed it, and it was the most challenging thing I've done in my life," Mills says about teaching. "This was particularly true because I wanted to work in high needs communities. You have to be everything, and no matter how much you give, it's never enough."
Mills decided she wanted to move out of teaching and into more direct work with communities, so her career took her to the Port Covington Development team. Her work is to enforce the community benefits agreement to ensure that the South Baltimore communities (known as SB7) surrounding Port Covington see the benefits of economic growth in the area. She works on ensuring minority and women-owned businesses get contracts on the Port Covington development and receive business development resources to make sure neighbors have access to new jobs. Mills has also worked with area schools to advance educations partnerships. These have been, she says, "great community efforts. I've gotten to bring volunteers to the schools and see communities coming together." Mills is currently working on a strategic planning process with the SB7 to determine the most essential issues to the community.
Next up for Mills is a trip to New Orleans for the Vanguard Conference, hosted by Next City. The nonprofit journalism organization pulls together leaders from around the country to talk about the most innovative things happening in cities around the world to move urban places forward. The experiential leadership conference received over 500 applications to attend; Mills was one of 40 young leaders chosen to go. She hopes to take what she learns from the conference and her ongoing work with her as she applies to business school. "I want to work on economic development in low income communities," Mills says. "I want to help people start businesses in their own communities. Baltimore is developing, and I'm passionate about making this equitable development."
When asked what she most took from her work in GWST, Mills said this: "Foundational for me was the idea that everything we know about the world is a social construction. Nothing has to be the way it is." Additionally, she said, "GWST gave me language to talk about my experience as a Black woman that I didn't have before. I didn't have the language to talk about it outside of my personal experience. GWST looks not just at the individual level, but at the systemic level. That was extremely helpful for me as someone who wanted to do work in public service. That is what I got out of GWST. It taught me how to think differently, and how to challenge my own perspective, and others."
We look forward to seeing how Mills continues to challenge and change the world.