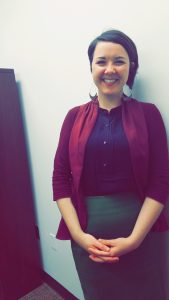 Michelle Barrow was one of the first UMBC students to get a Gender and Women's Studies degree. Michelle started off her college career as a Sociology major, before the Gender and Women's Studies program was created. Michelle said that the GWST program allowed her to become open to many different ideas and learn how to advocate for herself.
After leaving UMBC, she worked at many different non-profit organizations, trying to use her degree to create a positive impact on others' lives. Soon enough, she realized that it was not an area she would work in forever. With time, Michelle found that working in marketing was something that she enjoyed doing for a living. For a period in time, Michelle worked doing freelance marketing. With a chance of luck, Michelle has now made a full circle and is once again at UMBC but this time not as a student, but working for UMBC doing marketing for the Division of Professional Studies.
When having a chance to sit down with Michelle, she stated that her Gender and Women's Studies degree gave her self-reflective skills,the ability to be able to be critical of herself and use it to continue growing. Michelle said that she believed that it is important to try many different things and not limit yourself to one thing in life. She believes that everyone should take GWST classes because it gives them the skills to think critically and defend their ideas in both professional and personal settings.