Women's March Sign Making
Make a rally sign to march with at the Women's March!
Wednesday, January 15, 2020
12:00 PM - 2:00 PM
The Commons : Women's Center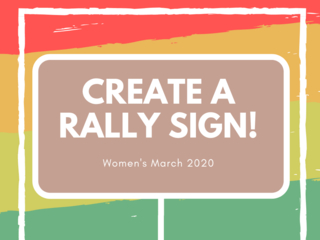 Join us in the Women's Center from 12pm - 2pm to create a rally sign for this year's Women's March. Materials and community space will be provided. We have plenty of markers and pens, but feel free to bring your own poster board if you have it as we have a limited amount. 
This years Women's March in Washington D.C. will be hosted on January 18th. While we will not be providing transportation, we will be supporting this event by creating a space to make rally signs.