Women's History Month Trivia Night
Show off your women's history know-how and win prizes!
Tuesday, March 2, 2021
6:00 PM – 7:00 PM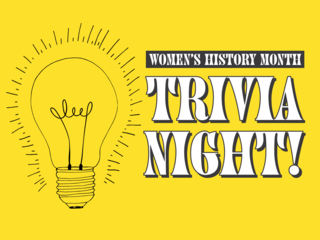 When was the Women's Center at UMBC founded?
Who was the first woman to go into space?
What year was the 19th Amendment ratified?
What was the name of Destiny's Child before they were signed to Columbia Records in 1997?
What are the names of the two elements discovered by Marie Curie and her husband?
What is the name of the artist who lived, died, and is--along with their artwork--now memorialized in Mexico City's La Casa Azul?

If you know the answer to one or more of these questions, then you are more than ready to get a team together for the Women's Center's Women's History Month Trivia Night! 
More information to come.
Please note:
 UMBC is committed to creating an accessible and inclusive environment for all students, staff, faculty, and visitors. If you have difficulties accessing any of the materials on our site or any of our events or discussions, please contact us so that we can provide an alternative format and/or remedy any accessibility challenges.