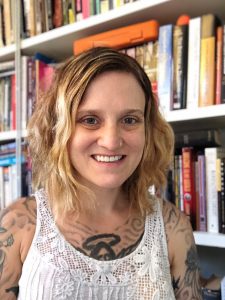 Dr. Liz Barr is a visiting lecturer in Gender and Women's Studies. In 2017, she completed her PhD at the University of Wisconsin, Madison, where she studied Rhetoric, Politics, and Culture in the Communication Arts Department and completed a PhD minor in Science and Technology Studies. She also earned a Master's degree in Women's and Gender Studies from Towson University in Baltimore, MD, with a concentration in Women, Health, and Sexuality. Her thesis, which examined border crossings in fine art responses to HIV and AIDS, led to a curated web gallery for the New York-based nonprofit Visual AIDS.
Dr. Barr has taught a variety of courses including gender and health, feminist theory, and rhetoric of technology. At UMBC she teaches Women, Gender, and Science, Feminist Theory, and Methodologies of Gender, Women's, and Sexuality Studies. She's a member of the College of Arts, Humanities, and Social Sciences (CAHSS) Innovation for Teaching Effectiveness (INNOVATE) Certificate program.
Liz has been heavily involved in AIDS treatment activism for almost a decade, including serving as a community representative to the AIDS Clinical Trials Group (ACTG). She was recently elected as co chair of that group's Community Scientific Subcommittee. She is also one of two co-chairs of the Women's HIV Research Collaborative, a group committed to representing women's interests and increasing women's participation in clinical research. She's a member of the AIDS Treatment Activists Coalition's Drug Development Subcommittee, which facilitates communication and sets agenda items between HIV/AIDS treatment activists and industry (including pharmaceutical companies). Dr. Barr has also done consulting work for the Treatment Action Group (TAG).
Dr. Barr's research is informed by her commitments to Gender and Women's Studies and her involvement in health activism. Her areas of interest include gender and health (particularly HIV/AIDS), feminist and queer rhetorical theory and criticism, rhetoric of social movements, and Science and Technology Studies (STS). She has published peer reviewed articles on sex differences in HIV cure research and gendered violence and risk of HIV acquisition. She's collaborated with clinicians and scientists on the development of several international clinical treatment trials as well as a successful pilot program of targeted women's outreach workers at clinical research sites. Currently, Dr. Barr is an investigator for a study of the feasibility of emergency contraception (as opposed to barrier methods of contraception) in the context of HIV treatment trials.  She is also working on a project exploring how activists, clinicians, and scientists who are interested in social justice construct arguments—for diversity in studies, for access to treatment/medicine, for novel interventions— in a time of limited financial resources and increasing bureaucratic constraints.