Meet Dr. Viviana MacManus, one of the new faces at UMBC
Our newest Assistant Professor of Gender + Women's Studies
September 18, 2013 3:20 PM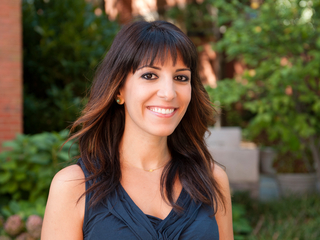 The Department of Gender + Women's Studies is very pleased to announce our most recent addition to the GWST faculty. Dr. Viviana MacManus is currently featured on the
UMBC homepage
, along with Dr. Scott Casper, Dean of the College of Arts, Humanities and Social Sciences, and other new leaders and faculty on campus. Dr. MacManus is currently teaching Introduction to Gender + Women's Studies, and will offer two classes in the Spring, Gender and Human Rights in Latin America, and International Feminist Filmmakers.
Here's what Dr. MacManus had to say about her experience as a Post Doctoral Fellow, and transitioning to her new post as Assistant Professor in the Department of Gender + Women's Studies.
"I feel welcome and wanted here. The warm and supportive community within the department of gender and women's studies was a major reason why I stayed at UMBC. I felt supported intellectually, community-wise on campus, and personally. I had the support that I needed to succeed.
It also said a lot to me that UMBC valued the liberal arts and humanities enough to invest in hiring new faculty in gender and women's studies, and investing in the humanities overall. The fellowship gave me time and support to transition from graduate school to the faculty. I designed my own classes, but also had the time to do my own research. I learned how to balance that, which I think is hard for new faculty right out of graduate school.
I think I'm super fortunate. I keep telling everyone that I think I won the jackpot."