E. Patrick Johnson, GWST 7th Annual Korenman Speaker
Pouring Tea: Black Gay Men of the South Tell Their Tales
November 18, 2013 4:21 PM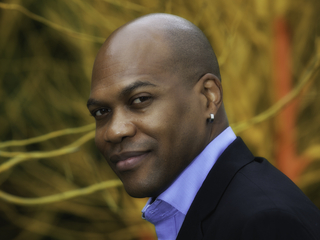 The Department of Gender + Women's Studies is thrilled to present this year's Korenman event. E. Patrick Johnson's will perform selections from his 2009 play, Sweet Tea—The Play, based on his book, Sweet Tea. The play had its world premiere in April 2010 and had a month run to rave reviews. He won a Black Theatre Alliance Award for Best Solo Performance for the show. He has toured to over 80 college campuses from 2006 to the present.
RSVP to the event here: http://my.umbc.edu/events/20834
Professor Johnson's performance will help us celebrate our Critical Sexuality Studies minor. Johnson's work amplifies UMBC's commitment to scholarly practice, and his performance continues our shared project of telling our stories as a model for civic engagement and social justice.
Professor Johnson is the Carlos Montezuma Professor of Performance Studies and African American Studies at Northwestern University. He is also an Artistic Fellow at the Ellen Stone Belic Institute for the Study of Women and Gender in the Arts and Media at Columbia College, Chicago. A scholar, artist, and activist, Johnson has performed nationally and internationally and has published widely in the area of race, gender, sexuality and performance.
You can find out more about Johnson at his website:  http://epatrickjohnson.com/. For background readings and additional updates on the event, see the GWST website.
The GWST 7th annual Korenman lecture is co-sponsored by the Dresher Center for Humanities, the Office of the Provost and the College of Arts, Humanities and Social Sciences.