Dr. Shomali Wins Lavender Faculty Ally of the Year Award
We're tickled purple!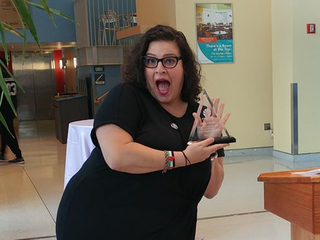 Gender and Women's Studies was thrilled to take part in last night's Lavender Celebration, UMBC's yearly event honoring LGBTQIA students, faculty, and staff. We were even more excited to hear that our new Assistant Professor, Dr. Mejdulene Shomali, was voted Lavender Faculty Ally of the Year for her service making UMBC a better place for all of us. As Dr. Shomali said in her acceptance speech, it is her--and our--pleasure to serve our students.
Congratulations to all nominees and winners, and thank you to the Mosaic Center for Diversity and Inclusion and Carlos Turcio and Lisa Gray for making it happen.