Interested in gender and politics? Take GWST/POLI328
TuTh 7:10pm-8:15pm, Dr. Lisa Pace Vetter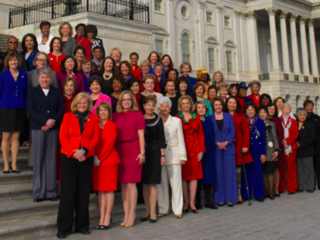 POLI/GWST328: Women, Gender, Sexuality, and Political Power in the US



Why are women such effective leaders during the COVID-19 crisis?
Why didn't any women win the Democratic presidential nomination? Will one of them be nominated for V.P?
Does Hillary Clinton's loss mean we will never have a woman president?
Why are poor, white, African American, and Latino women and the LGBTQ community bearing the brunt of the COVID-19 crisis? What do we do about it?
A historic number of LGBTQ people were elected to Congress in 2018, and Pete Buttigieg was the first gay presidential candidate. Who are they? Will there be more?
51% of the United States is under the age of 50, but they only have 24% representatives in Congress. How will this ever change?
There are only 13 Republican women in the House and 8 in the Senate. What is the future for women in the Republican party?
Take POLI/GWST 328 and find out!TuTh 7:10pm-8:15pmDr. Lisa Pace Vetter