Gender, Women's, + Sexuality Studies critically examines the intersections of genders and sexualities with race, nation, class, religion, and other aspects of identity to make visible the structures of power that otherwise remain hidden. Students are empowered to imagine a more just future and equipped with the tools to collectively enact it.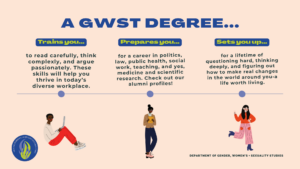 Our degree programs are perfect to combine with other fields of study, including STEM fields, and will bring a new perspective to your understanding of your work.

If you're interested in learning more or talking with a department advisor, email gwstudies@umbc.edu
UMBC was established upon the land of the Piscataway Conoy and Susquehannock peoples. Over time, citizens of many more Indigenous nations have come to reside in this region. We humbly offer our respects to all past, present, and future Indigenous people connected to this place. Please visit here for more information on the purpose of land acknowledgment.