Core and affiliate faculty in Gender, Women's + Sexuality Studies are frequent speakers on campus, and the department also hosts the annual Korenman Lecture Series.
The Korenman Lecture Series
Named in honor of Joan S. Korenman, the founding faculty member of what was then the Women's Studies Program, the Korenman Lecture series showcases the wealth of contemporary scholarship that is produced at the intersections between gender, women's, and sexuality studies and other academic disciplines.
The first Korenman lecture ran in 2007 and the Department of Gender, Women's, + Sexuality Studies has hosted the lecture every year since.
View Previous Korenman Lectures
  Lecture 16 – 2023
Alan Pelaez Lopez and Trans4Trans Care: Reflections on the Undocumented Trans*Imagination
"[S]ome of us live in constant and continual rupture," writes Jennif(f)er Tamayo in a collection that recalls their incarceration in an immigration detention center when very young. This talk traces the "constant and continual rupture" that undocumented trans* and nonbinary subjects in the United States are subjected to and the mechanisms of imagination we employ in turn to rupture the continual logic of empire, gender, and political membership. The talk asks: how does insisting on the imagination help us architect livable futures? And what blueprints have undocumented trans* activists and cultural producers already created for us to use when imagining alternative realities?
---
Lecture 15 – 2022
C. Nicole Mason and the Impact of the Pandemic on Women's Work and Wellbeing
Dr. Mason, President and CEO of the Institute for Women's Policy Research in 2019, is the youngest person to head up an inside-the-beltway think tank, and she is one of the few women of color to do so. Her two decades of research has focused on economic security, poverty, racial equity, and political participation among women, and communities of color. Under her leadership, the Institute has been a leading source of empirical data on the impacts of the pandemic of women's labor force participation, economic insecurity, and overall well-being. Dr. Mason's talk explores the pandemic recession, which she has labeled a 'she-cession.'
---
Lecture 14 – 2021
Jennifer C. Nash and 'In the Room':  Women of Color Doulas in a State of Emergency
"In the Room" explores the work of women of color doulas laboring in Chicago in an era where doulas are increasingly hailed—by the state and by activists—as precisely the innovation that can save black mothers' lives. Dr. Nash explores the complicated tensions around professionalization and the medicalization of birth that underpins their practice, and considers the place of their work in the ongoing effort to eradicate black infant and maternal mortality.
---
Lecture 13 – 2020
 Kelly Dittmar and Measuring Electoral Success: Gender and Intersectional Dynamics in Political Campaigns
The electoral gains for women in the 2018 election were notable, but that numeric progress was not felt by all women nor did it yield gender parity in American politics. Beyond the numbers, measuring success in U.S. elections means considering the ways in which gender and intersectional dynamics that have created obstacles to women candidates are disrupted.
---
Lecture 12 – 2019
 Sara Ahmed and Complaint as Diversity Work
What can we learn about the workings of power from those who challenge power? This talk approaches complaint as a form of diversity work: the work some have to do in order to be accommodated. Making a complaint requires becoming an institutional mechanic: you have to work out how to get a complaint through a system. It is because of the difficulty of getting through that complaints often end up being about the system. Based on interviews with staff and students who have made complaints related to unfair, unjust or unequal working conditions and to abuses of power such as harassment and bullying, the talk explores how the experiences that lead to complaint and the experiences of complaint are hard to untangle. It reflects on the role of academic networks and professional intimacies in shaping what happens to complaints and to those who complain.
---
Lecture 11 – 2018
 Deepa Iyer and Becoming Bridge-Builders and Disrupters: Navigating Racial and Gender Realities in America Today
America is becoming a nation in which communities of color will comprise the majority population by 2040. This dramatic demographic shift creates a historic opportunity to address the long-standing racial and gender inequities in our nation. At the same time, these demographic changes are accompanied by an increase in racial anxiety, backlash, Islamophobia, and xenophobia. How can we understand these two simultaneous phenomena? How are communities and institutions grappling with them? How do we build learning environments that recognize and acknowledge the racial realities of a changing America?
---
Lecture 10 – 2017
 Carole McCann and Figuring the Population Bomb: Malthusian Masculinities and Demographic Transitions
On November 11, 1959, the television broadcast CBS Reports: The Population Explosion presented nine million viewers with the facts of the world population crisis, saying "its volatile ingredients are statistical." Rebroadcast a year later to an even larger audience, the report investigated an issue that fueled public anxiety about potential war, famine, and related doomsday scenarios. Drawing from her new book, Figuring the Population Bomb: Gender and Demography in the Mid-Twentieth Century, Carole McCann traces the genealogy of the statistics that underwrote the midcentury panic about population growth. She illuminates the gendered geopolitical grounds and affective commitments of the specialized mathematical culture that composed the figures of the population explosion. The talk traces the inferential logics by which demographers' quantification practices configured women's bodies, especially women of color, as excessively fertile by nature; defined that fertility as the singular cause of growth; and installed the demographic transition to low fertility as necessary for modern citizens and nations. Those population figures, she argues, circled the globe, moved nations to intervene in women's reproductive lives, and continue to haunt struggles to secure reproductive justice.
---
Lecture 9 – 2016
Alice Dreger and Why Have Intersex Rights Been So Hard to Secure in America?
For 25 years, people born with intersex (that is, body types that aren't standard male or standard female) and their allies have been fighting for basic patient rights, including the right to full access to their medical histories and the right to decide for themselves about optional genital surgeries. Yet, although the public is today much more educated about intersex and intersex rights than 25 years ago, American pediatric medical care for intersex still involves invasive attempts to sex "normalize" boys and girls born intersex and still lacks adequate psychosocial care. Even while the United Nations has recently declared intersex genital surgeries to constitute human rights violations, American medicine treats unusual forms of sex as automatic pathologies in need of surgical "repair." This talk explores why much more progress has been made abroad than in America, and in doing so, pays particular attention to tensions existing between the pursuit of justice and the pursuit of truth in America today.
---
Lecture 8 – 2015
Maria Gabriela "Gaby" Pacheco and The Paths We Make as We Go: the Narrative of an Undocumented Immigrant Woman in the U.S.
Immigrant rights activist Maria Gabriela Pacheco is a prominent figure in the national immigrant rights movement and is currently the Program Director of TheDream.US, a national organization that provides higher education fellowship opportunities for undocumented immigrants.  Originally from Guayaquil, Ecuador, Pacheco moved with her family to the Miami area at the age of 8. During her high school years, she began to organize politically in order to shed light on the social injustices faced by undocumented immigrants in the U.S. She has gained national recognition for her courageous advocacy of the DREAM Act, legislative reform that would provide residency status to undocumented immigrants aspiring to attend college.
---
Lecture 7 – 2014
E. Patrick Johnson and Pouring Tea: Black Gay Men of the South Tell Their Tales
E. Patrick Johnson's will perform selections from his 2009 play, Sweet Tea—The Play, based on his book, Sweet Tea. The play had its world premiere in April 2010 and had a month run to rave reviews. He won a Black Theatre Alliance Award for Best Solo Performance for the show. He has toured to over 80 college campuses from 2006 to the present.  Professor Johnson's performance will help us celebrate our new Critical Sexuality Studies minor. Johnson's work amplifies UMBC's commitment to scholarly practice, and his performance continues our shared project of telling our stories as a model for civic engagement and social justice.
---
Lecture 6 – 2013
Sandra Steingraber and The Fracking of Rachel Carson: Silent Spring in an Age of Environmental Crisis
Dr. Sandra Steingraber, ecologist and cancer survivor, has written extensively on the intersection of the environment and public health. She will discuss what we have learned, and failed to learn, in the 50 years since Rachel Carson's publication of Silent Spring, focusing specifically on the public health threat posed by fracking.
---
Lecture 5 – 2012
Kathy Davis and Feminism as Traveling Theory: the Case of Our Bodies, Ourselves
The classic feminist book, Our Bodies, Ourselves, has had an enormous impact on US feminism, and it has been taken up, translated, and adapted by women across the globe. Drawing upon Edward Said's "traveling theory" concept, Davis explores the book's world-wide travels, shows how it was transformed by its many border crossings and argues that the book and its travels offer insights for how we think about history, the politics of knowledge, and transnational feminism.
---
Lecture 4 – 2011
Farhana Sultana and Negotiating Contaminated Identities: Gender, Water, and Development in Altered Waterscapes
The United Nations' articulation in 2002 of a universal human right to water also provided the thematic springboard for The Right to Water conference, organized by Farhana Sultana. The goal of the two-day gathering, says Sultana, was to "look at the right to water and how it plays out on the ground — in terms of issues of legalities, governance, or even philosophical approaches to how water should be managed. If the right to water is an established human right, how do we materialize that? We live in a world where more than a billion people do not have access to safe water. What does that mean for our humanity and our sense of global citizenship or us as a human community, if we cannot ensure basic rights to water and sanitation and have young children dying, whether from water-borne diseases or from lack of quality water or reliable water sources?
---
Lecture 3 – 2009
Rhacel Parrenas and Gender Revolution in the Phillippines
In this year's Korenman Lecture, Professor Parrenas talks about her work on the children of migrant workers. The lecture offers a comparative analysis of the Philippines case and that of Poland. According to Parrenas, "there has been recent surge of children being left behind in Romania, Poland, and other Eastern European nations by migrant domestic workers. Interestingly the moral backlash that Philippine society imposes on Filipina women for leaving their children behind in the Philippines is now mirrored in the experiences of many Eastern European migrant women". She focuses on the question of gender and citizenship and examines the decline of the welfare state and the impacts of such a decline from a global perspective.
---
Lecture 2 – 2008
Nancy Armstrong and Gender Must Be Defended
Author of such books as Desire and Domestic Fiction: A Political History of the Novel, How Novels Think: British Fiction and the Limits of Individualism, and Fiction in the Age of Photography: The Legacy of British Realism, Professor Armstrong utilizes the Victorian novel to consider how to conceptualize gender in the aftermath of identity politics.
---
Lecture 1 – 2007
Cynthia Enloe and Women, Men and the Iraq War:  What a Feminist Curiosity Reveals
Dr. Enloe, Research Professor at Clark University in Worcester, MA, is a preeminent scholar in the area of women and international relations. Regarded as "an international feminist treasure," Enloe is known not only for her academic brilliance, but also for her ability to craft spontaneous and accessible analyses of the real world. Enloe's work explores the intersections of feminist analysis, women's lives, and local and global militarization. Among her recent books are Bananas, Beaches and Bases: Making Feminist Sense of International Politics, Maneuvers: the International Politics of Militarizing Women's Lives and, most recently, The Curious Feminist: Searching for Women in a New Age of Empire.
Recent Lectures by GWST Faculty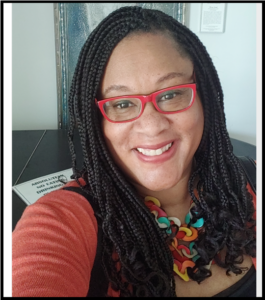 T.O.B.A. Time: Black Show Business and the Theater Owners Booking Association in 1920s America
Michelle Scott, Professor, UMBC Department of History
Affiliate Faculty in the GWST, LLC, and Africana Studies Departments
This talk centers on Michelle Scott's new monograph, T.O.B.A. Time: Black Vaudeville and the Theater Owners Booking Association in Jazz Age America. T.O.B.A. Time is an intriguing account of black entertainment and black business during the 1920 and 30s. It details origins of artists and entrepreneurs like S.H. Dudley, Bessie Smith, Butterbeans & Susie, and Cab Calloway, and the theater circuit that made them famous in segregated America.
---
Between Banat: Queer Arab Critique and Transnational Arab Archives
Mejdulene Shomali, Assistant Professor, Department of Gender, Women's, + Sexuality Studies
This talk examines homoeroticism and nonnormative sexualities between Arab women in transnational Arab literature, art, and film. It considers women, femmes, and nonbinary people who disrupt stereotypical and Orientalist representations of the "Arab woman" and reveals the ways heteropatriarchy and nationalism foreclose queer Arab futures. It attends to Arab women's narration of desire and identity to substantiate queer Arab histories. Mejdulene Shomali argues that prioritizing transnational collectivity over politics of authenticity, respectability, and inclusion can help lead toward queer freedom.
---
Imagining Otherwise: Strategies for Teaching and Learning Abolition
Kate Drabinski, Principal Lecturer, Department of Gender, Women's, + Sexuality Studies; and Director of the Women Involved in Learning and Leadership (WILL+) program
The logics of crime and punishment are so deeply embedded for most of us that it is hard to think of any alternatives. Carceral logics shape everything from the attendance and late policies on our syllabi to our responses to fear and harm. How do we learn to imagine otherwise? In this presentation, Dr. Kate Drabinski will share strategies from her teaching about prisons, prison abolition, and social movements that build toward that horizon. She will also raise questions about how we might start building anti-carceral logics into our classes to nurture this work on a wider scale. Part of the "Prison State" lecture series – one-hour presentations by scholars, community organizers, and other experts addressing a variety of issues shaping the past, present, and future of incarceration.
---
CHOICE IS NOT ENOUGH
What is next for reproductive justice?
Dr. Carole McCann, Chair and Professor, Department of Gender, Women's, + Sexuality Studies
Dr. Maria Celleri, Assistant Professor, Department of Gender, Women's, + Sexuality Studies
Dr. Susan McDonough, Associate Professor, History and Affiliate Faculty for Department of Gender, Women's, + Sexuality Studies
Feminist faculty held an open conversation around reproductive justice, the history and impact of Roe v. Wade, and what is next for reproductive justice.