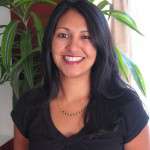 Dr. Amy Bhattis an Assistant Professor of Gender and Women's Studies  and an Affiliate Assistant Professor in the Language, Literacy and Culture Program. She received her Ph.D. in Feminist Studies from the University of Washington in Seattle, WA in 2011. Her research and teaching interests fall into three rubrics: global studies of gender, families and social reproduction; contemporary and historical ethnic formation; and globalization and transnational migration.
She is currently working on a manuscript based on her dissertation research on Indian H-1B technology workers and their families entitled "At Home in Globalization: Gender, Labor and the Circulating Indian Household." The manuscript considers how transnational flows of people and capital across borders impact gender, race, and class formation in various locations.  These new migration patterns have implications for feminist studies, South Asian Studies and Asian American Studies by challenging territorially-defined notions of region and community formation and instead demanding closer attention to how the household and gender relationships influence the formation of networks and transnational movement.
Dr. Bhatt is the former oral historian for the South Asian Oral History Project and co-author of the book Roots and Reflections: South Asians in the Pacific Northwest with Nalini Iyer, available through the University of Washington Press https://www.washington.edu/uwpress/search/books/BHAROO.htm.  She has also written for Little India, The Huffington Post, India Abroad, and The Root, and has worked on gender policy and advocacy issues in Washington, DC and Seattle.
Dr. Bhatt teaches both introductory and senior level core courses for Gender and Women's Studies, as well as courses in gender and globalization and South Asia, which serve both GWST and Asian Studies.  In addition, Dr Bhatt serves on the Asian Studies Advisory Board.
Recent guest appearance: KUOW Seattle's "Weekday with Steve Scher" program on April 17th, 2013. You can listen to the complete interview by clicking here.