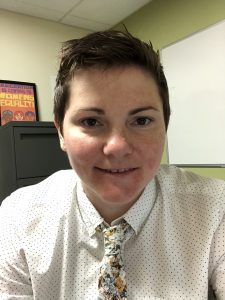 Dr. Kathryn Kein is a Lecturer in the Gender and Women's Studies Department. She received her Ph.D. in American Studies from George Washington University in 2016. Her research interests include gender and sexuality, feminism, race, social movements, and popular culture. Her dissertation, "Hysterical Feminism," explores the overlooked role of stand-up and sketch comedy in feminism's second wave.
Dr. Kein has had articles published in Feminist Studies and Studies in American Humor and has an upcoming addition to an edited collection on American stand-up comedians.
At UMBC, Dr. Kein teaches Introduction to Gender and Women's Studies; Queer Representation in Film and TV; Gender, Race, and Media; Gender and Sitcoms; and Gender and Inequality in America.