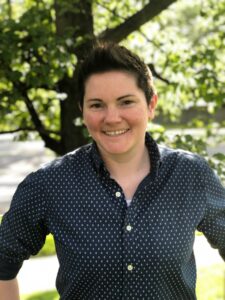 Dr. Kathryn Kein is a Lecturer in the Gender, Women's, and Sexuality Studies Department. She received her Ph.D. in American Studies from The George Washington University in 2016. Dr. Kein's research interests include gender and sexuality, feminism, race, social movements, and popular culture.
Dr. Kein's written work has focused on gender, sexuality, and feminism in American comedy. In 2015 she published a review essay on feminism and humor,  "Recovering our Sense of Humor: New Directions in Feminist Humor Studies," in the journal Feminist Studies. In "Domestic Failure, Comic Pleasure: Phyllis Diller and the Feminist Potential of Failure, 1955 – 1969," published in Studies in American Humor (2018), she explores the work of legendary comedian Phyllis Diller and the affective impact of her failed housewife persona. "Awkward Embrace: Tig Notaro and the Humor of Social Discomfort," in the collection Taking a Stand: American Stand-up Comedians as Public Intellectuals (2021), examines the role of Notaro's "awkward" comedy in relation to queer identity and politics.
At UMBC, Dr. Kein teaches a variety of courses on gender, sexuality, and popular culture, including Introduction to Gender and Women's Studies; Introduction to Critical Sexuality Studies, Queer Representation in Film and TV; Gender, Race, and Media; and Gender and Sitcoms.
Dr. Kein also serves as the Associate Director of the WILL+ program—Women involved in Learning and Leadership—and as UMBC's Faculty Athletic Representative.