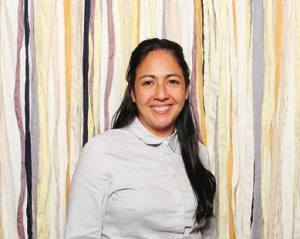 María Célleri is an Assistant Professor in the Department of Gender, Women's & Sexuality Studies at UMBC. She received her Ph.D. in Ethnic Studies from the University of California, San Diego. She has also earned a Master's in Women, Gender & Sexuality Studies from The Ohio State University and a Master's in Hispanic Language's & Literature from Stony Brook University.
Her current research project examines the rapid urban growth of Quito, Ecuador at the end of the 20th century in relationship to increasing national debt and the racialization of the cityscape. She frames this period of geopolitical transformation in relation to 16th century events, arguing that the foundation of the Royal Audience of Quito in 1534 by Spanish conquistadores establishes a colonial logic that is based on racial, gender, and sexual control and which continues to function well into the present day. Consequently, she considers the reorganization of the city in the 1970s as (neo)colonial in the sense that it operates within the legacy of
colonization, shaping the sprawling city through Eurocentric and colonial ideas of bounded space. She is most interested in how the unprecedented urban expansion of the 1970s created an ongoing urban problem for city officials, who became preoccupied with "ordering" the city and "controlling" urban growth. In order to understand the discursive strategies used by government officials and justify accruing large sums of foreign debt for urban projects, she examines the colonial history of the city, a rich history of conflict, urban reorganization, and racial and gender control. She focuses on how the geological formations around the city, specifically El Panecillo, were and continue to be essential to understanding pre-Colombian, colonial, and contemporary forms of urban organization and control.
She has published a co-authored article, "América's Home: A Dialogue about Displacement, Globalization, and Activism."  Co-authored with Denise Fuller, Delia Fernandez, and Danielle Olden, Frontiers 34.1. Spring 2013. Her upcoming article, "From La Virgen del Panecillo to La Virgen del Legrado: (Trans)national Feminist Struggles for Reproductive Rights in the Andes" (under revision) with Frontiers.
At UMBC, she teaches Introduction of Gender, Women's & Sexuality Studies. In Spring 2020, she will also be teaching Transnational Feminist Film and Feminist Methodologies.
Visit her site: www.mariacelleri.com