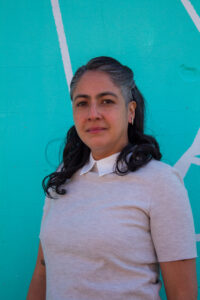 María Célleri is an Assistant Professor in the Department of Gender, Women's & Sexuality Studies at UMBC. She received her Ph.D. in Ethnic Studies from the University of California, San Diego. She has also earned a Master's in Women, Gender & Sexuality Studies from The Ohio State University and a Master's in Hispanic Language's & Literature from Stony Brook University.
Her current book project, Uncovering the Virgen del Panecillo: Quito's Postcolonial Urban Transformation & Decolonial Future Imaginaries examines the political and symbolic importance of the monument of the Virgen del Panecillo in a postcolonial cultural research study of how public monuments come to represent and often reproduce national imaginations which are then mapped onto national territories. The Virgen del Panecillo is a 41-meter-tall statue of the Virgin of Immaculate Conception, which was constructed in 1976 in Quito, Ecuador's historical city center. She stands on top of El Panecillo, a 200-meter-high hill in central Quito, where the Inkan sun temple Yavirak once stood tall and is one of Quito's most popular tourist attractions. The struggle for representation in colonial and national histories is a central theme of my book project. The central questions I examine are: How is Quito's colonial history reimagined, packaged, and sold for touristic consumption during the 1970s and what role did the Virgen del Panecillo serve for the nation as a form of cultural capital? What symbolic meaning does she possess for quiteñas/os/es, Ecuadorians, and Andean peoples today and how have contemporary artistic representations of the Virgin exposed the often-hidden connections between colonialism, Catholicism, and the production of gendered, sexualized, and racial gazes? A chapter of the book, "From La Virgen del Panecillo to La Virgen del Legrado: (Trans)national Feminist Struggles for Reproductive Rights in the Andes," appears in Frontiers: A Journal of Women's Studies 41.2 (Fall 2020).
She has also published a co-authored article, "América's Home: A Dialogue about Displacement, Globalization, and Activism." Co-authored with Denise Fuller, Delia Fernandez, and Danielle Olden, Frontiers 34.1. Spring 2013.
At UMBC, she teaches Introduction of Gender, Women's & Sexuality Studies; Feminist Methodologies; Transnational Feminist Film; and Gender, Human Rights + Political Violence in Latin America.
She is also an affiliate faculty member at UMBC's Language, Literacy & Culture Program: https://llc.umbc.edu/people/llc-affiliate-faculty/
Her research interests include Latin America & Caribbean Studies (Andean Studies); decolonial feminisms; reproductive justice; urban studies; cultural studies
Visit her site: www.mariacelleri.com